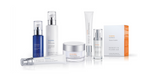 KERSTIN FLORIAN


Born and raised in the scenic landscape of Sweden, Kerstin Florian has always been inspired by nature, its energy and its intrinsic connection to wellness. Her gift for blending nature into innovative products and experiential treatments for unparalleled results led her to craft her namesake line of products and protocols built around the four cornerstones embraced in her holistic approach to skincare:
Proper Nutrition • Regular Exercise • Peace of Mind • Care of the Face & Body
The result is a portfolio of skincare programs that deliver noticeable results via beautiful and memorable sensorial experiences. This powerful blend of passion, innovation, natural wellness and the spa lifestyle, combined with its guiding philosophy of Outer Beauty, Inner Health, has led Kerstin Florian International to be partnered with the finest luxury resort and destination spas around the world.